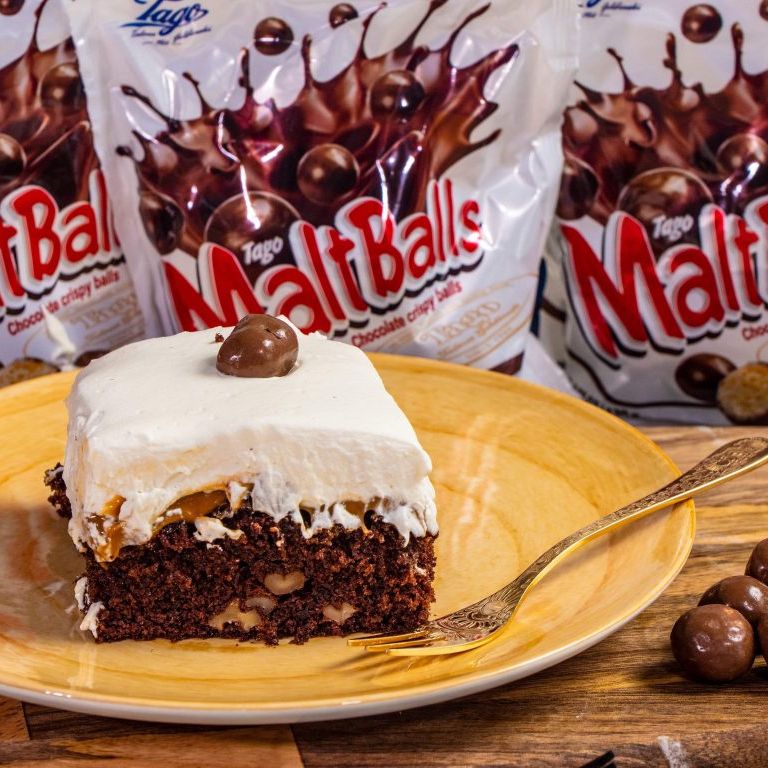 Shopping list:
3 eggs
1 pack of TAGO Maltballs
200 g brown sugar
200 g of flour
1 tbsp of baking powder
1 tbsp of vanilla sugar
100 ml of milk
100 g cocoa
50 g of walnuts
1 can of fudge mass
50 g almond flakes
500 g of mascarpone cheese
500 ml of cream
To do list:
Beat the eggs in the mixing bowl to a fluffy mass with sugar. Then keep whisking and add flour after a spoonful. Mix until the ingredients combine and there will be no lumps.
Add baking powder, vanilla sugar, milk and half of the cocoa to the beating mixture. Combine the ingredients.
Add walnuts to the finished mixture and use a spatula to mix the ingredients.
Put the pastry into a rectangular baking form covered with butter. Bake at 180 ° C for 40 to 50 minutes.
Leave the baked cake for cooling.
Put a layer of fudge mixture on the cooled cake, and sprinkle with almond flakes. Then pour out the previously prepared cream mass.
Decorate the cake with Maltballs from TAGO and put it in the fridge for a few hours.
TAGO products used in the recipe: