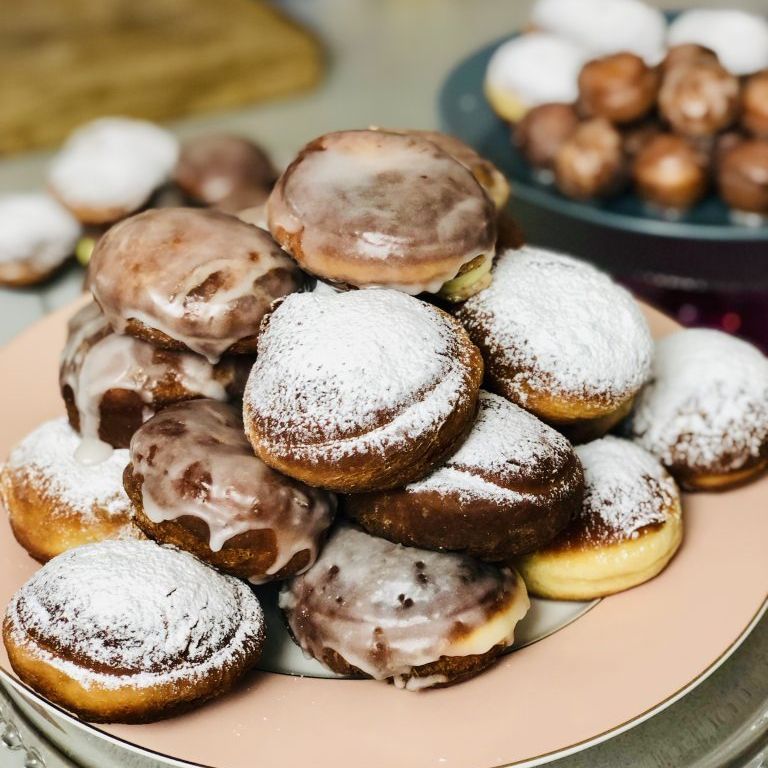 Shopping list:
1 kg of whole meal flour
Kardynałki TAGO
10 egg yolks
100 g yeast
½ cube of butter
2 tbsp of spirit
2 glasses of milk
½ a glass of fine sugar
1 tbsp of vanilla sugar
a pinch of salt
1,5 kg of lard
To do list:
Beat egg yolks and sugar to a white, fluffy mass. We will need them in a moment.
Sift the flour together with salt and vanilla sugar into a large bowl through a sieve. Add the risen leaven and combine with a wooden spoon to form a homogeneous mass.
Add egg yolks to the prepared pastry and knead the pastry for about 20 minutes using the best food processor with a hook tip. The finished cake should easily leave the hand.
Add melted butter and spirit to the prepared pastry. Knead the whole contents. Cover the prepared pastry with a cloth and leave to rise for about an hour and a half.
Place the risen pastry on a flour-covered board and use a roller to roll out the dough to about 2 cm thick.
Cut out the doughnuts from the pastry using a glass. Leave the prepared circles on the board to rise (about 30 - 40 minutes).
We dissolve the lard in a pot. Using a kitchen thermometer we watch the temperature 170-185 degrees Celsius. We will fry in it.
Then fry the grown doughnuts in portions - making sure that the temperature of the lard does not fall below the set temperature. Put the fried doughnuts on a paper towel to get rid of fats.
Sprinkle the doughnuts with your favourite jam and sprinkle with powdered sugar or icing.
TAGO products used in the recipe: